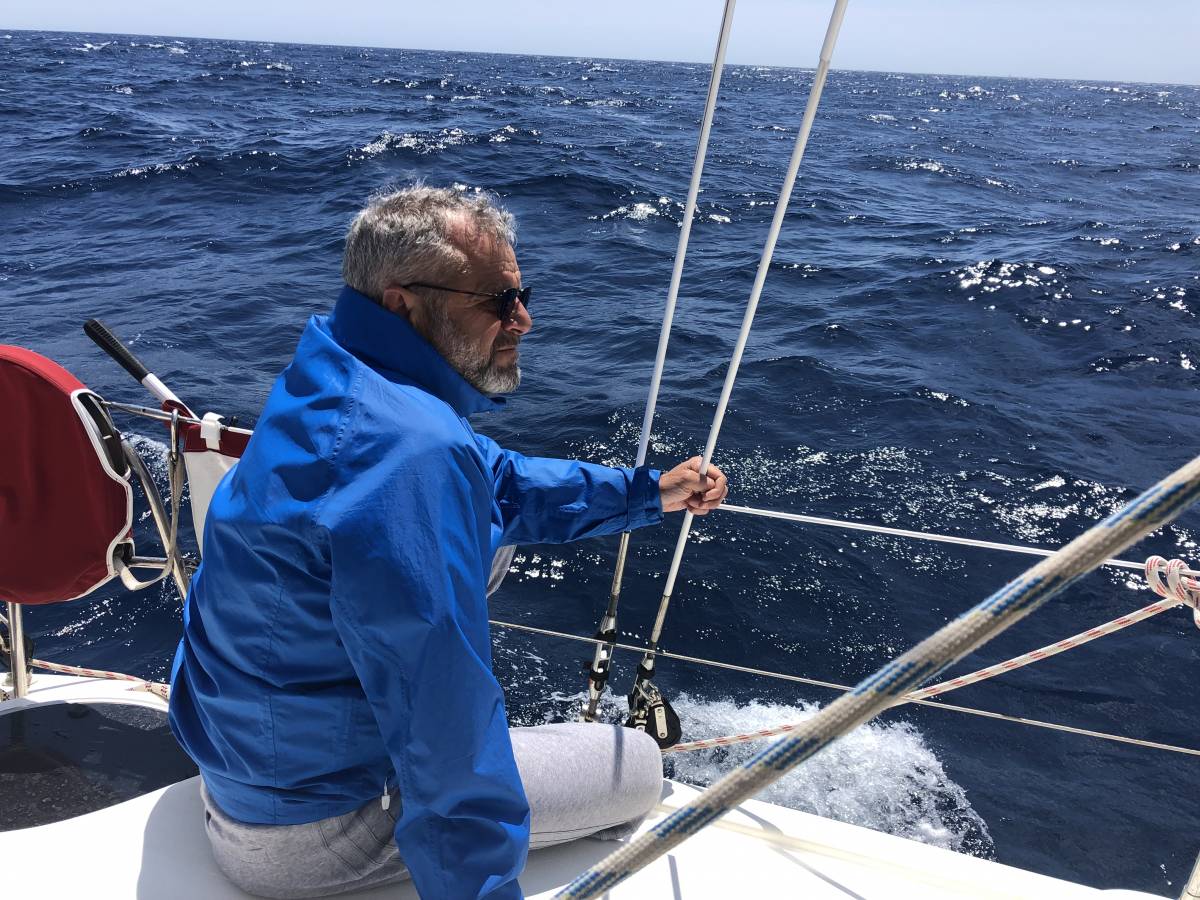 19.05.2019, 16:07 UTC
Tough Day We stayed for 2 nights in Crotone to wait for a change of wind direction. So this morning we left early also because of a noisy techno party and sailed towards Rocella Ionica.

The wind was nice with 5 to 7 Beaufort but the old swell from the day before coming from the wrong direction made it quite bumpy.

It was Pippos first time to this kind of waters but he stayed brave.

Tomorrow we will reach Sicily where Pippo was born- back to the roots.
Wind force:
6 - strong breeze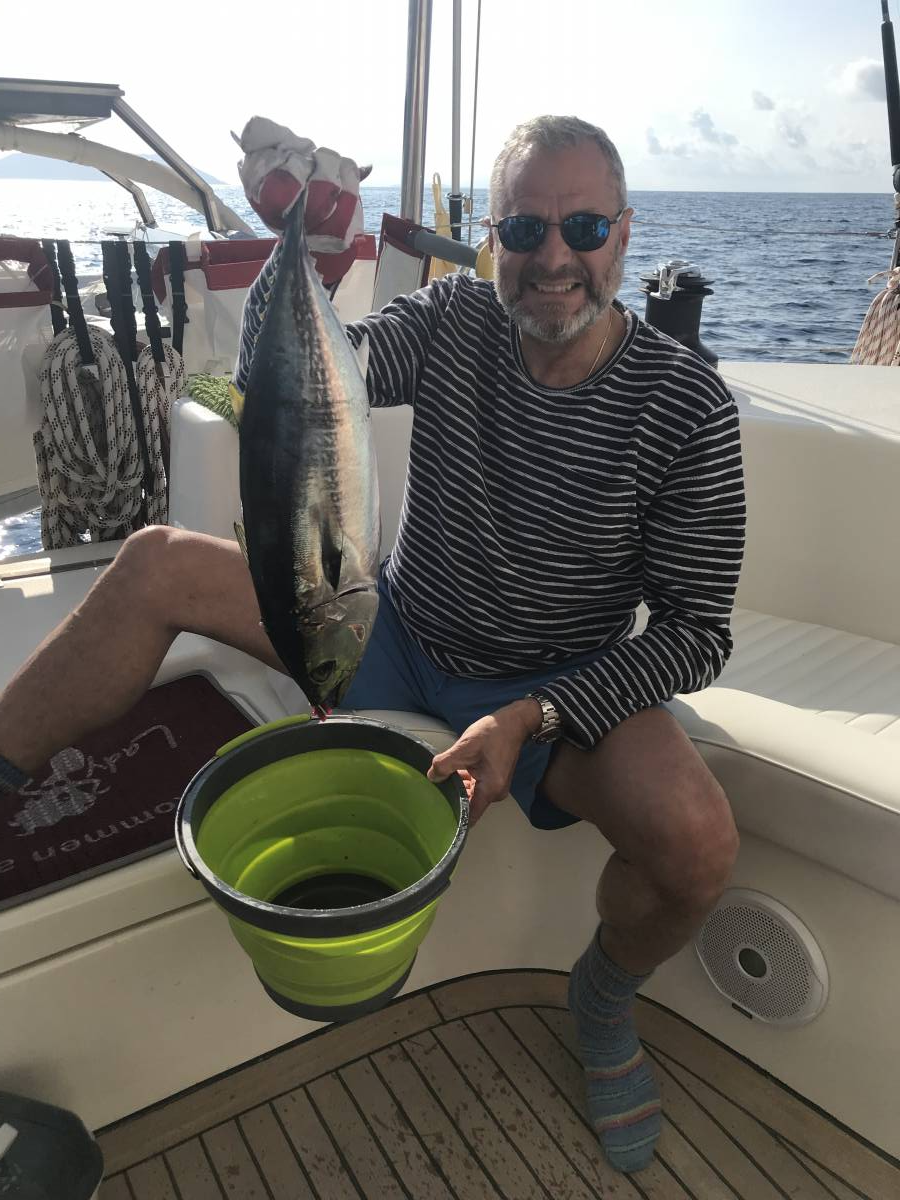 16.05.2019, 07:00 UTC
First Catch of the Season Today we are crossing the adriatic sea from Erikousa to Santa Maria di Leuca.

As this is quite a long trip we put out one fishing gear with my new lure I just bought a couple of days ago in Corfu.

A nice 3.5kg tuna liked the lure and we don't have to worry about what's up for lunch.
Destination of the day:
Santa Maria di Leuca
Wind force:
3 - gentle breeze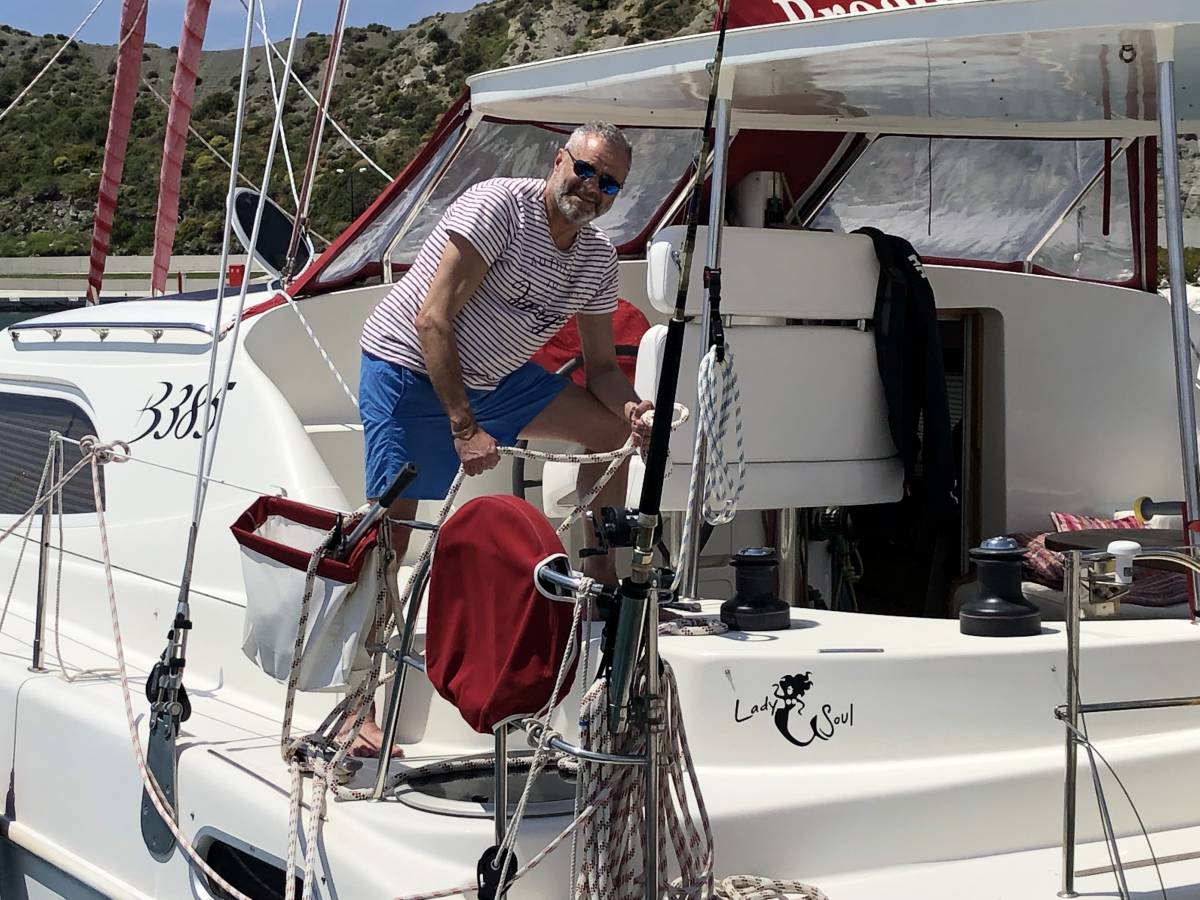 15.05.2019, 10:36 UTC
Don Giuseppes first Mooring The last segment of the trip to Sicily started this morning with dead calm weather. We stopped at the brand new marina of Erikousa. It was the first mooring for my new crew. Everything worked perfect.

Tomorrow we will cross the Adriatic to Leuca.
Wind force:
1 - light air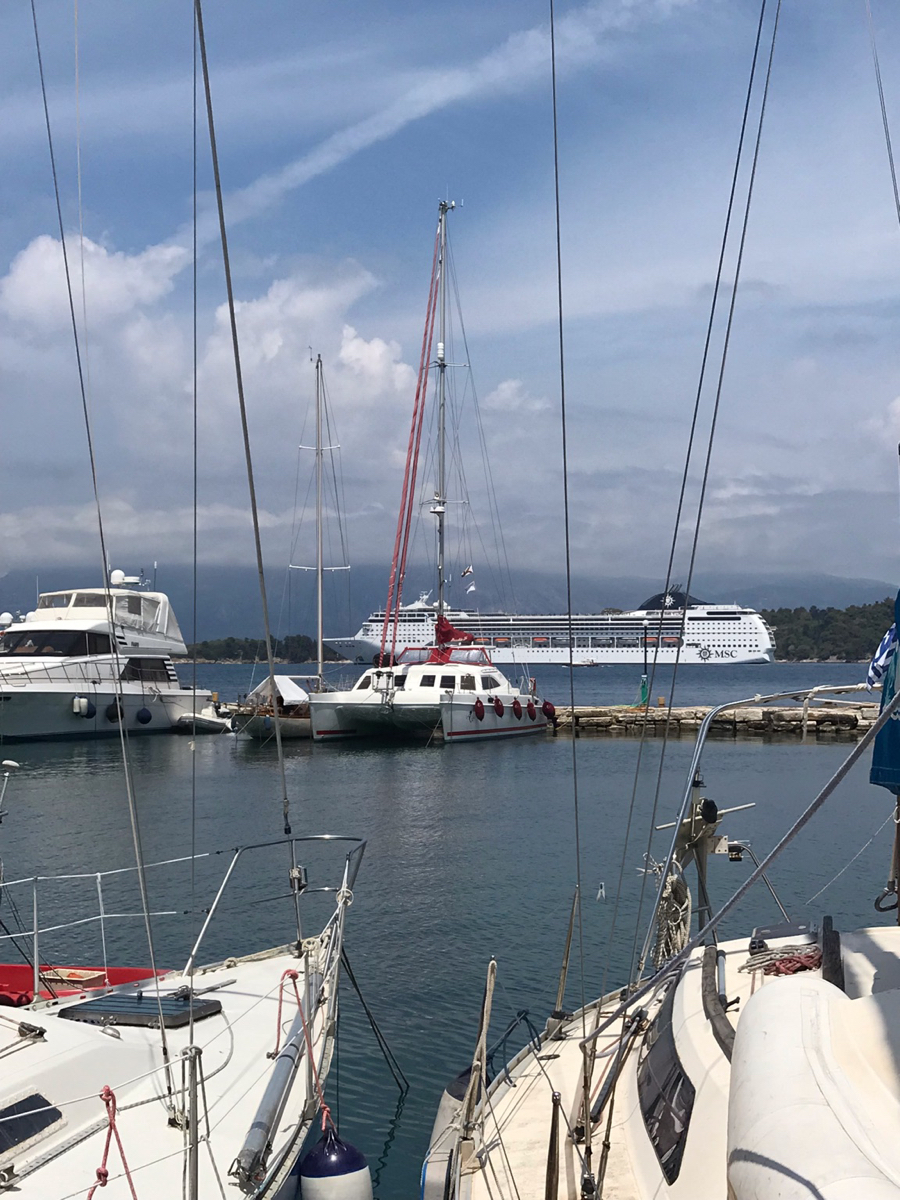 10.05.2019, 10:22 UTC
Nice harbour below the fortress Today we arrived at the lovely Port Mandraki surrounded by the old fortress of Corfu while huge ferries and cruise ships passing by.

As Franz is flying home tomorrow and my next crew will arrive on Tuesday I will have some time to relax and fix some minor issues.

Sadly the forecast for the next days predicts some rain.
Wind force:
1 - light air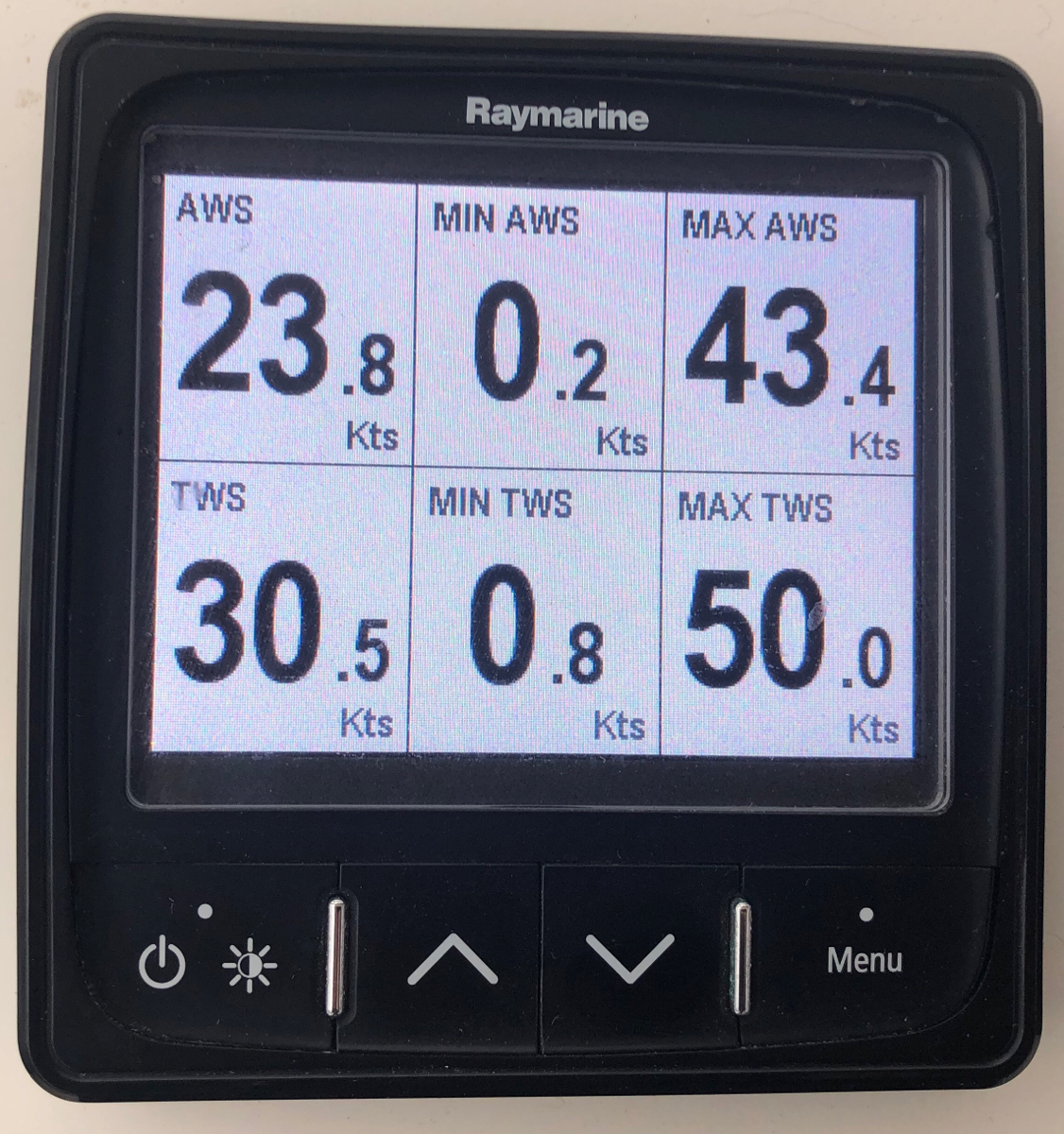 05.05.2019, 12:40 UTC
Franz Birthday Wind Today we were sailing from the lovely island of Kalamos in northerly direction. All forecasts were showing southerlies around 10-15 knots, ideal for going north.

Already after 10 minutes we were quite surprised about the wind picking up fast. After 1 hour we only hat the genua out minimized to the second reef. We were still sailing around 10 knots and the wind gusted up to 50 knots!

After the Lefkas ferry bridge we decided to go to the brand new Preveza marina, which welcomed us with a heavy rain upon arrival.

Now we will stay here for the next to days until the wind looks favorable to continue to go north to Corfu.

Tonight we will find a nice taverna to celebrate Franz birthday.
Wind force:
6 - strong breeze

04.05.2019, 06:53 UTC
Crossing under the longest European bridge We just crossed below the bridge on out way to the Ionian Sea, that spans over the Gulf of Patras. It is a strange feeling figuring out, that our 20m air draft would fit underneath.
Wind force:
3 - gentle breeze
02.05.2019, 10:41 UTC
Corinth Canal Yesterday my older son Franz joined me for the second leg to Siciliy. As it was a bit noisy in Zea Marina we decided to go to the nice bay of Korfos on the Peloponnes, where we had a lovely dinner and a quiet sleep.

This morning we left early to still have the morning sun for our crossing through the Canal of Corinth (watch the video).

Now we are resting in the harbour of Korinthos and wait for hopefully better wind direction for tomorrow.
Location:
Korinthiakos Kolpos
Wind force:
5 - fresh breeze