30.09.2019, 07:13 UTC
Meet the Dolphins Today we motored from Kalymnos to Lipsi when a family of dolphins joined us for about 10 minutes.

They were all around Lady Soul and it was great fun watching them playing and jumping.
Destination of the day:
Lipsi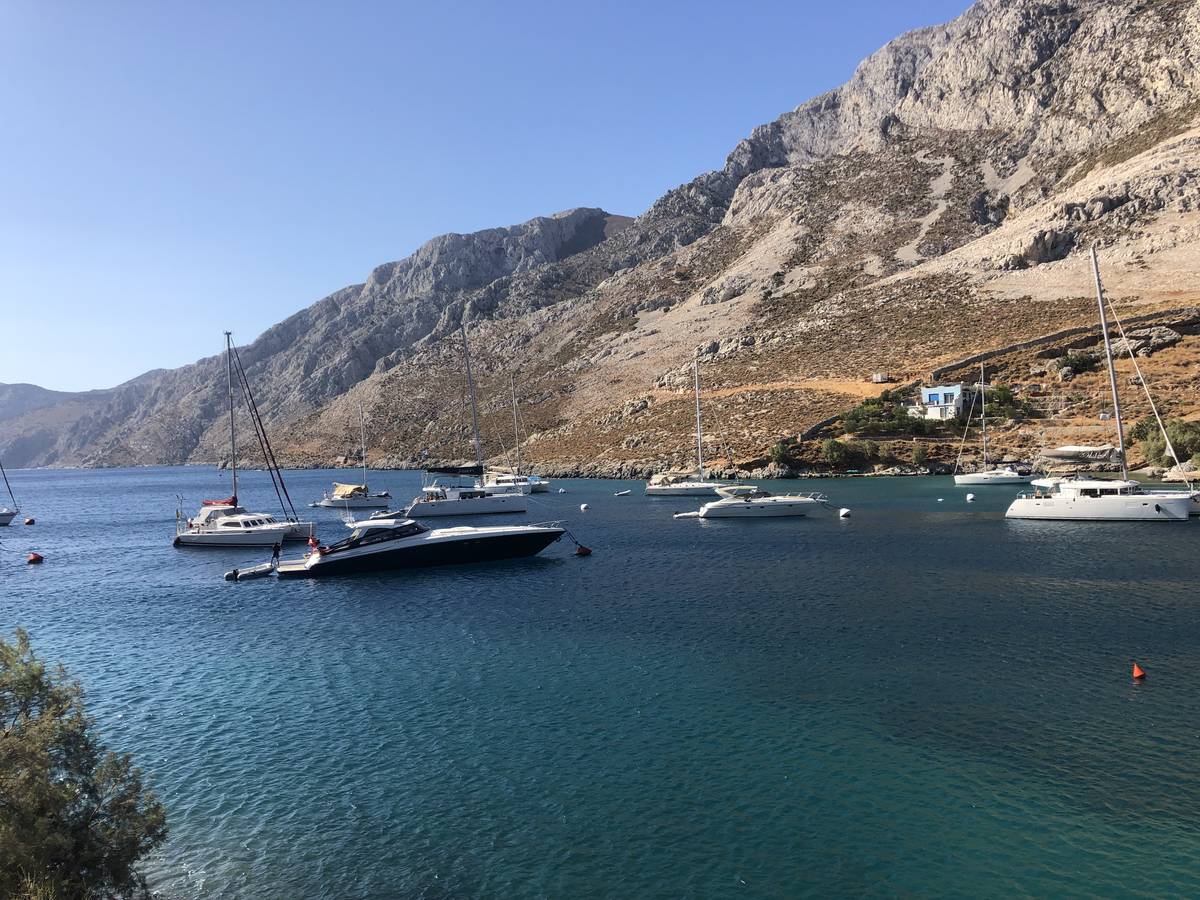 18.08.2019, 06:53 UTC
Stormy Sunday The Meltemi is back. The North-West summer wind arrived last night with up to 40 knots (8 Beaufort). Even in the very protected Kalymnian bay of Palionissos all boats were jumping around on their moorings.

This will continue until tomorrow!
Wind force:
6 - strong breeze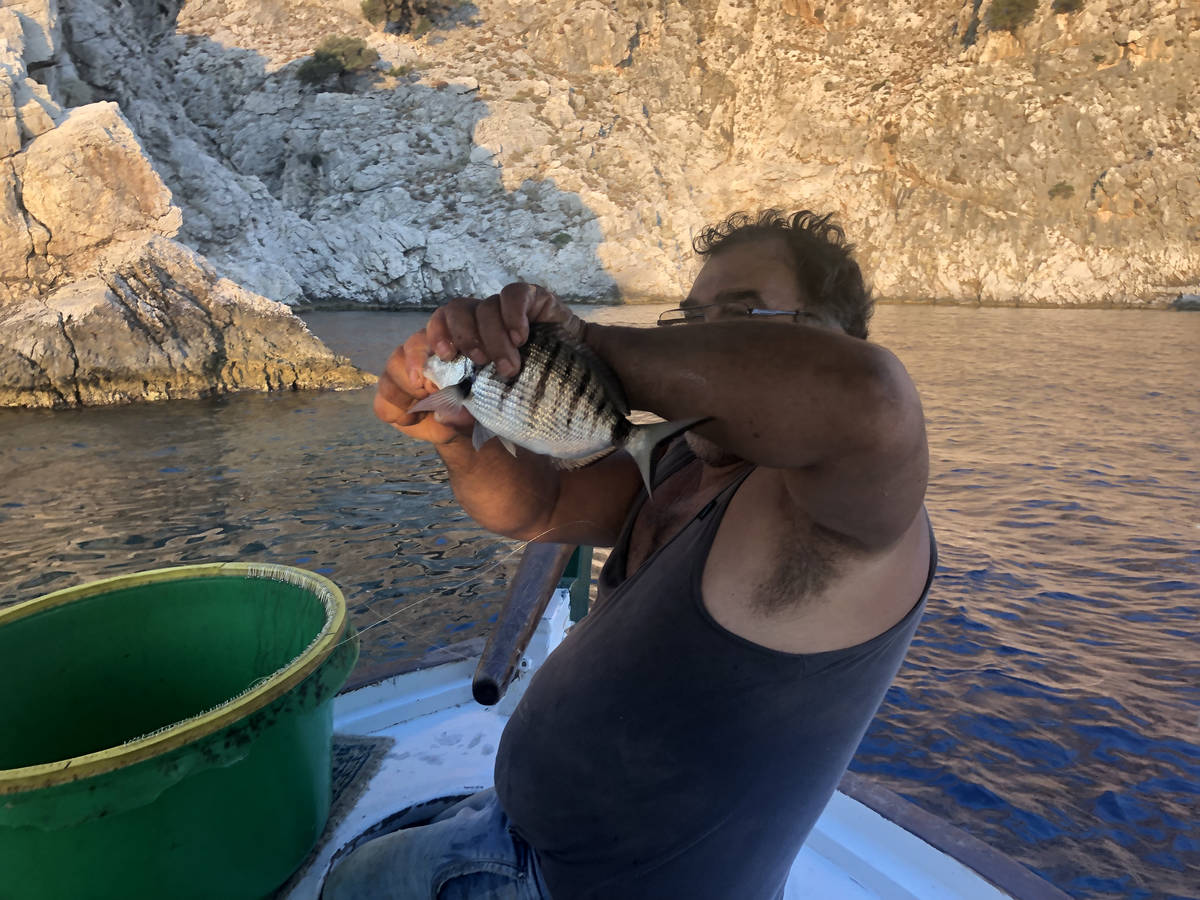 27.07.2019, 08:17 UTC
Early Morning Fishing Trip At 05:30 this morning I went out with Kostas, a local fisherman from Leros.

We collected quite some fish from the approximately 800 hooks, Kostas put in places yesterday evening: Sargos, Xarakida, Xiona and Michalis.

So we will have a lot of fresh fish for dinner tonight at Ilias Taverna in Palionissos nicely prepared by Nomiki and Christos on my last night, before I return to Kos tomorrow - the end of my trip to Sicily after almost 2.000 nautical miles.
Wind force:
3 - gentle breeze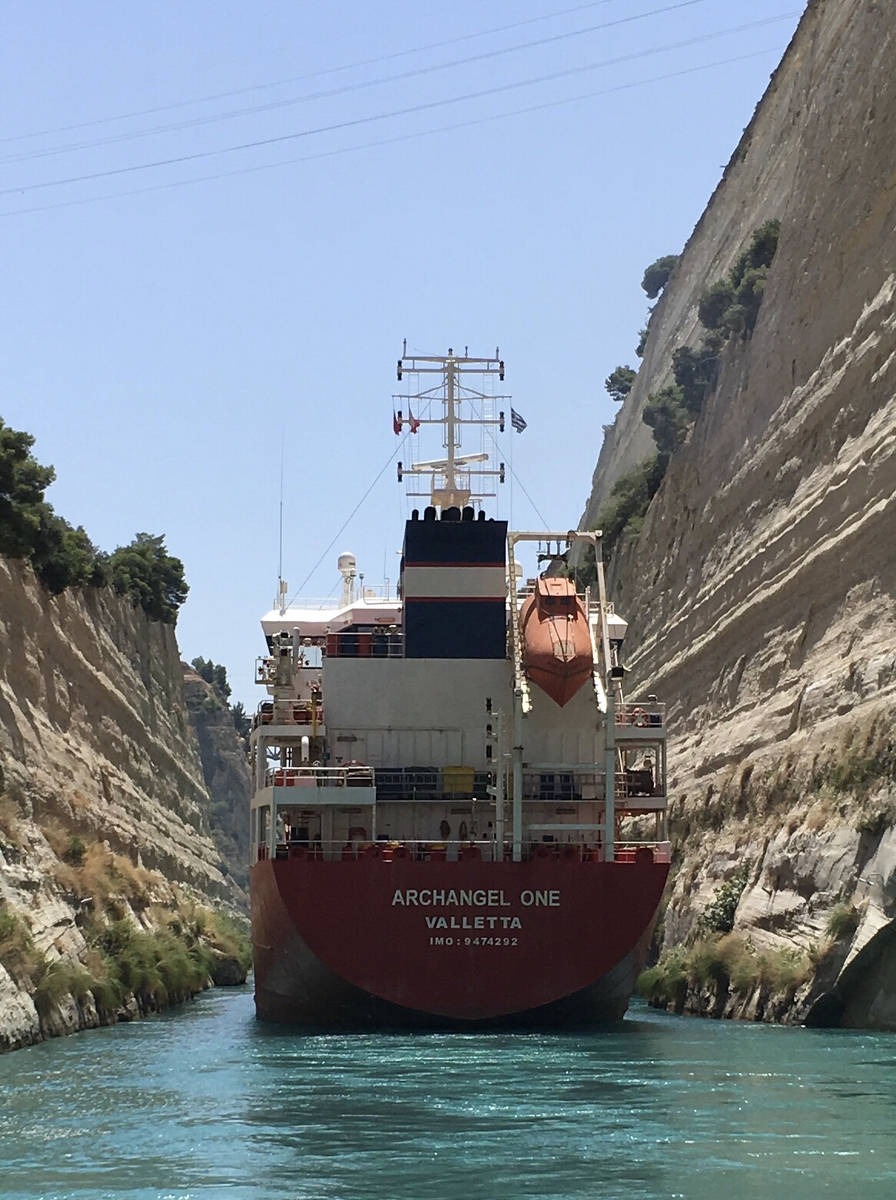 08.07.2019, 10:26 UTC
Following a tanker through the Canal of Korinth Today we crossed the Canal of Korinth again.

We had to follow a 109meter tanker, that was tugged through the canal.

With a beam of 17meters it was quite a spectacular view.

The problem was, that the speed of the tugboat was only around 3.5 knots and the current going the same direction was about 3 knots as well, so we hardly had enough speed for the rudders to keep Lady Soul straight. I had to reverse a couple of times.
Destination of the day:
Kolfos
Wind force:
4 - moderate breeze
04.07.2019, 10:02 UTC
Crossing the Ferry Bridge in Lefkas After a great stop last night in Lakka bay at Paxos island with magnificent waters and a great fish soup for dinner we continued our trip towards Athens.

Therefore we had to cross the interesting ferry bridge between the mainland and Lefkas.

Watch the video we made with our mast camera
Destination of the day:
Meganisi
Wind force:
3 - gentle breeze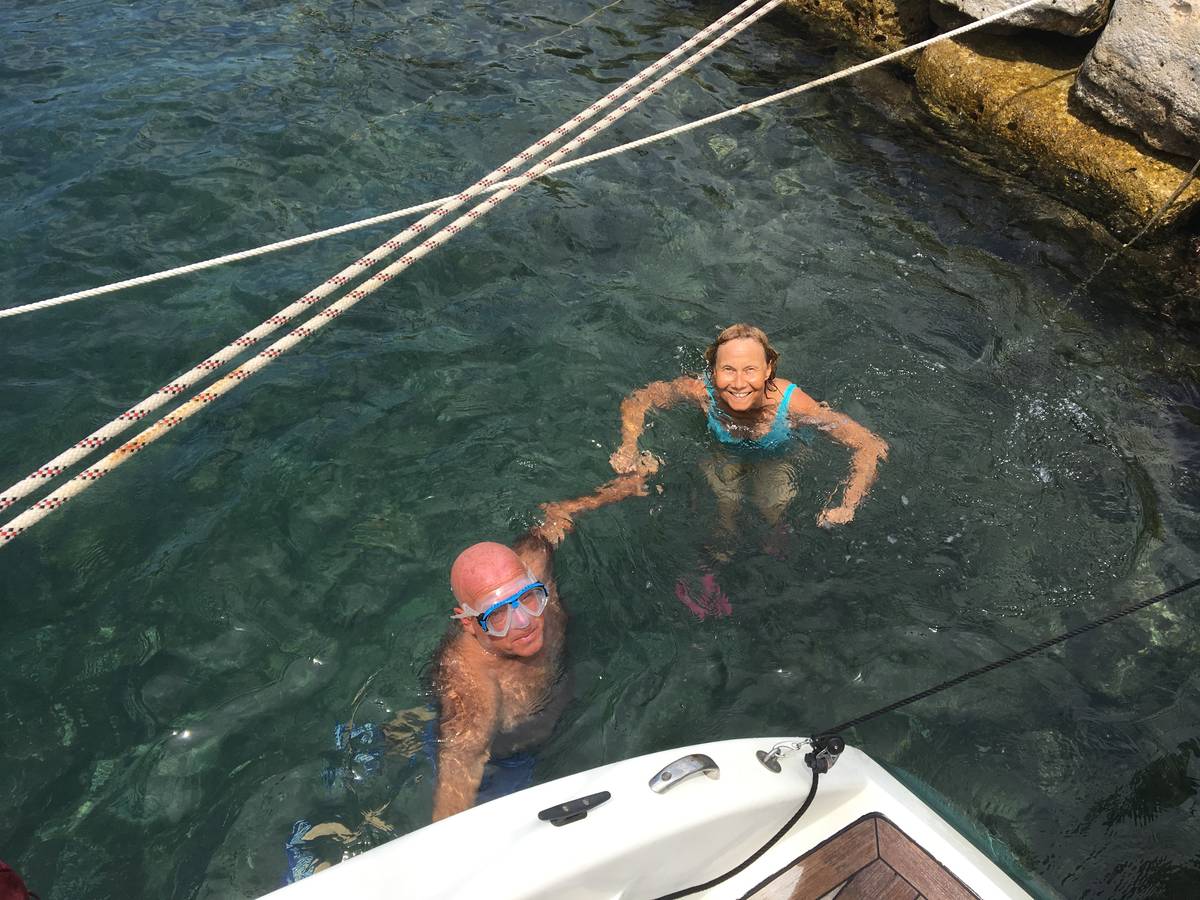 24.06.2019, 11:38 UTC
Trouble at the end of returning leg one Today we had, compared with the previous days, a short sail.

We moored at Corfu Mandraki Harbour, the nice small marina just below the old fortress.

By mistake we got a mooring line in one of the props which was connected to an unused lazy line.

It took Uli and me about one hour of teamwork, to get everything sorted out.

Now we're enjoying a great lunch at the marinas restaurant.

The trip will continue in about one weeks time with the leg through the Corinth Canal towards Athens.
Wind force:
2 - light breeze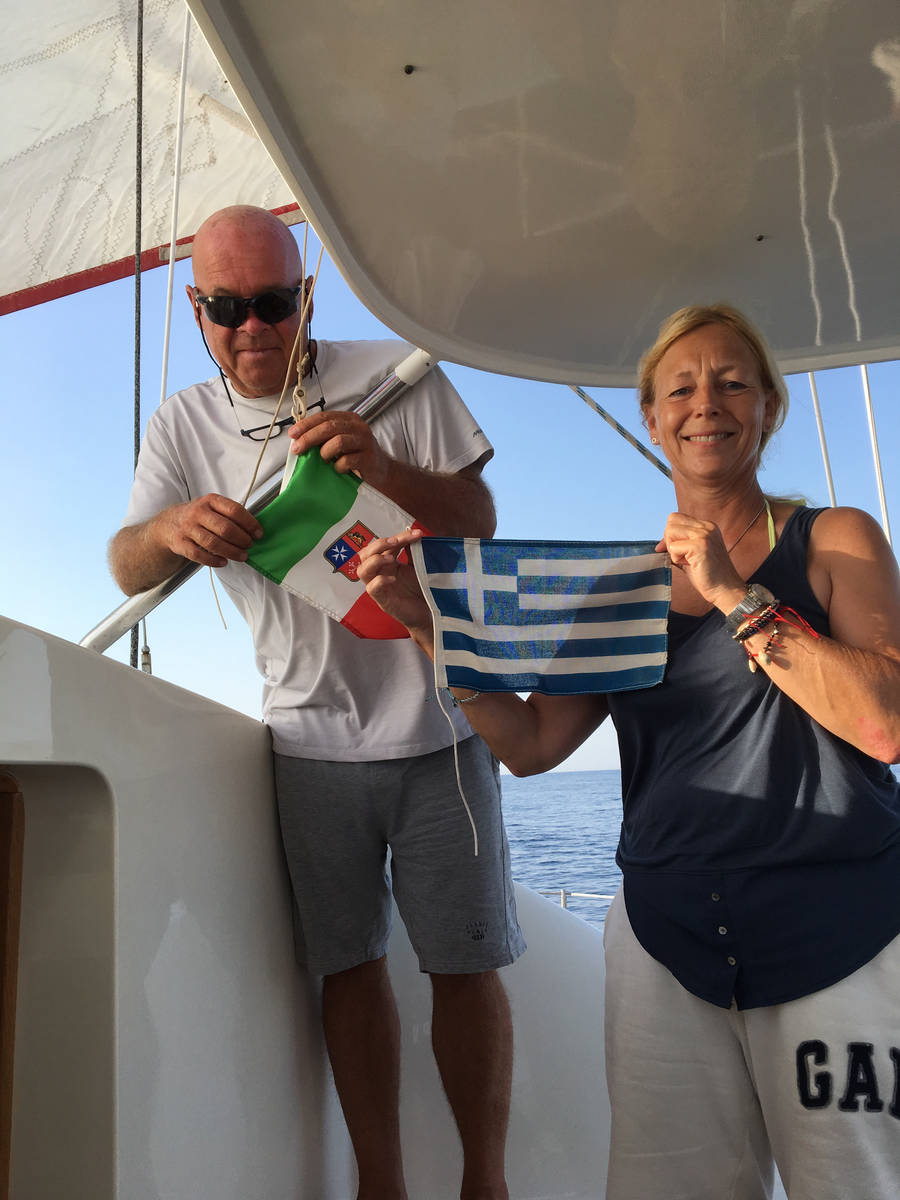 22.06.2019, 05:13 UTC
Back in Greece Last night we had our last stop in Italy in St. Maria di Leuca with a great dinner on a rooftop terrasse having a seafood bouillabaisse.

Now we are on route to Othoni, our first stop back in Greece looking forward to my favorite greek dishes, which also will help us to save on budget as eating out in Italy got really expensive.
Location:
Adriatisches Meer
Destination of the day:
Othoni
Wind force:
2 - light breeze