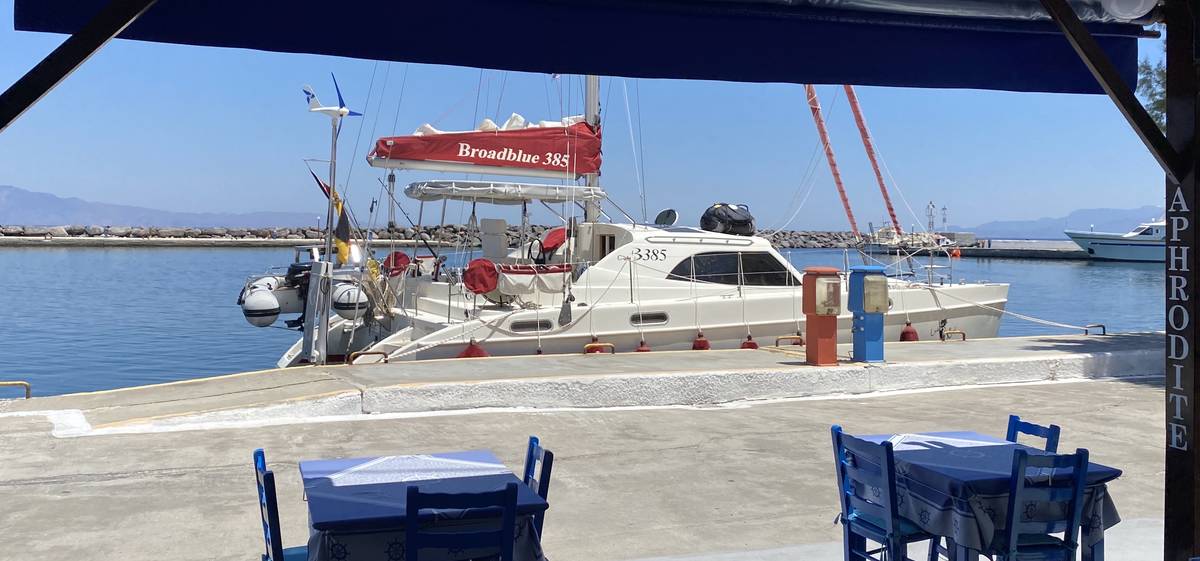 01.07.2020, 10:33 UTC
Only private boat in Palio After a nice downwind sail to Nisyros we moored alongside in Palio on Nisyros just in front of the lovely taverna Aphrodite. We are the only non local boat in this nice harbour. Normally it's hard to find a spot even going stern to.

Now we will do an excursion to the active vulcano with my favorite quad from Mike's Eagles Nest rentals before we will return to Kos tomorrow.
Wind force:
2 - light breeze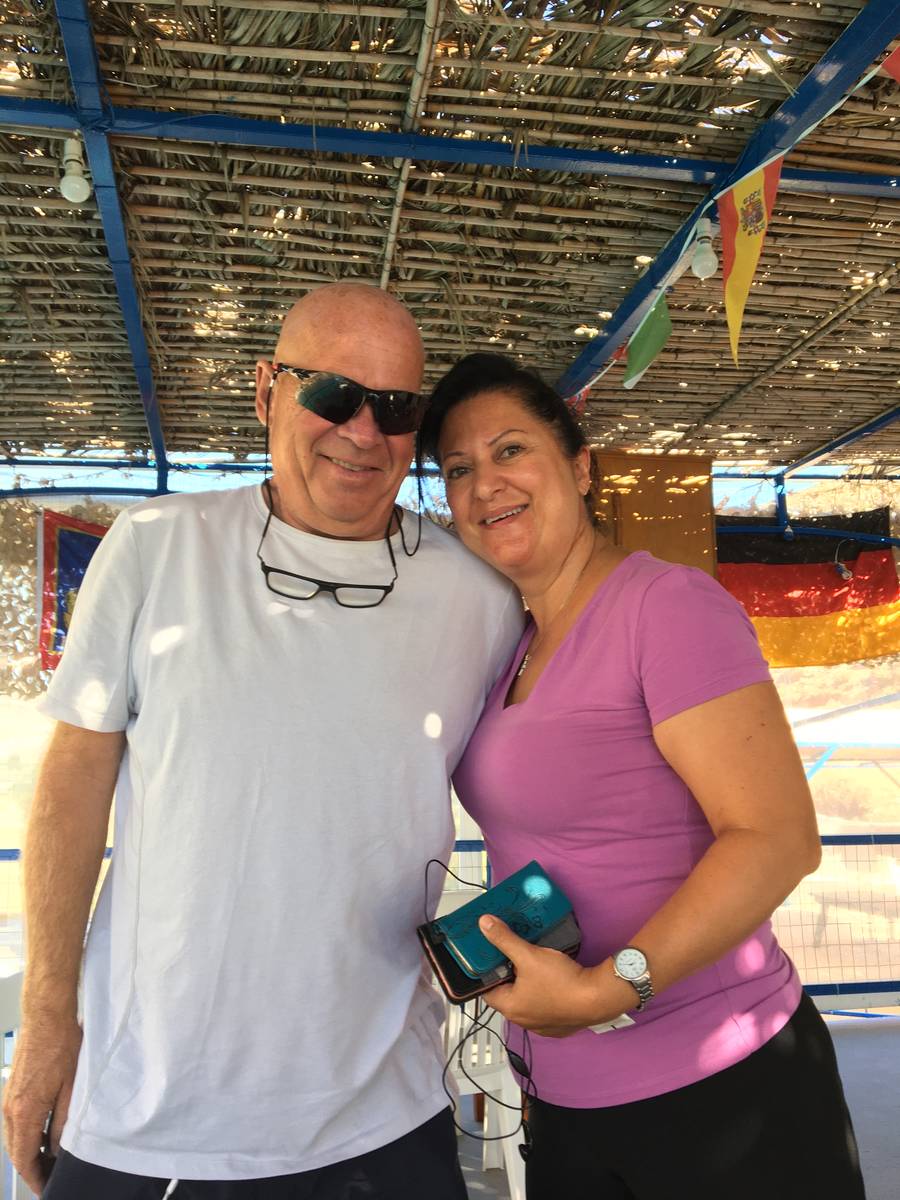 29.06.2020, 06:51 UTC
Birthday at my favorite bay I planned a big party for my 65th birthday, but f... Covid-19 did not make it possible.

So there will be only a great dinner cooked by Nomiki at Ilias Taverna in Palionissos.

If anyone wants to come for dinner tonight, you are invited. And don't worry, all mooring buoys are free and available (except mine of course).
Wind force:
4 - moderate breeze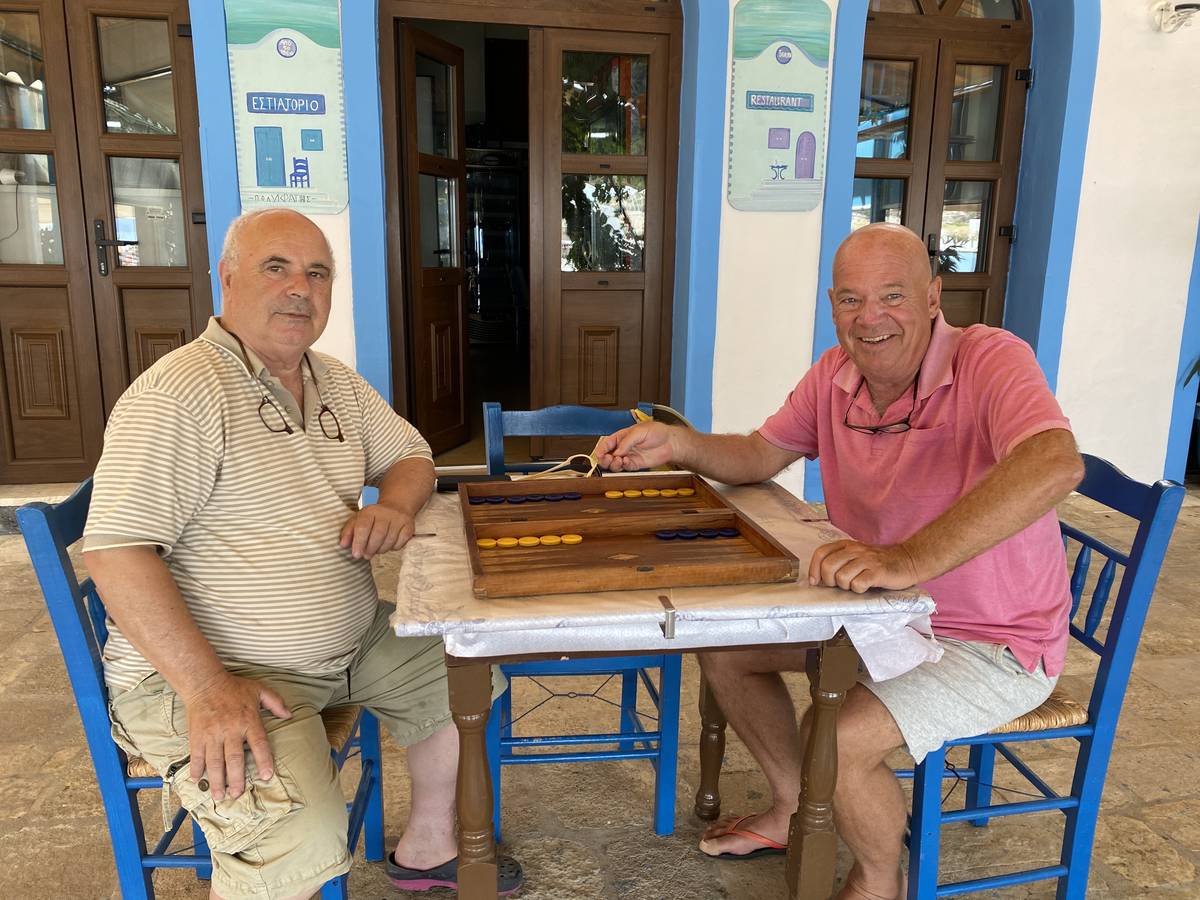 24.06.2020, 10:05 UTC
Playing Backgammon Today we arrived in Pythagorion on Samos. Almost no tourists here, so Antonis has time to play Backgammon with me. By surprise I won 5:2!

He already asked for a revenge for tonight:)

No problem as we are moored right in front of his taverna next to Gregorys Bar at the waterfront of Pythagorion.
Location:
Pythagorio Samos
Wind force:
1 - light air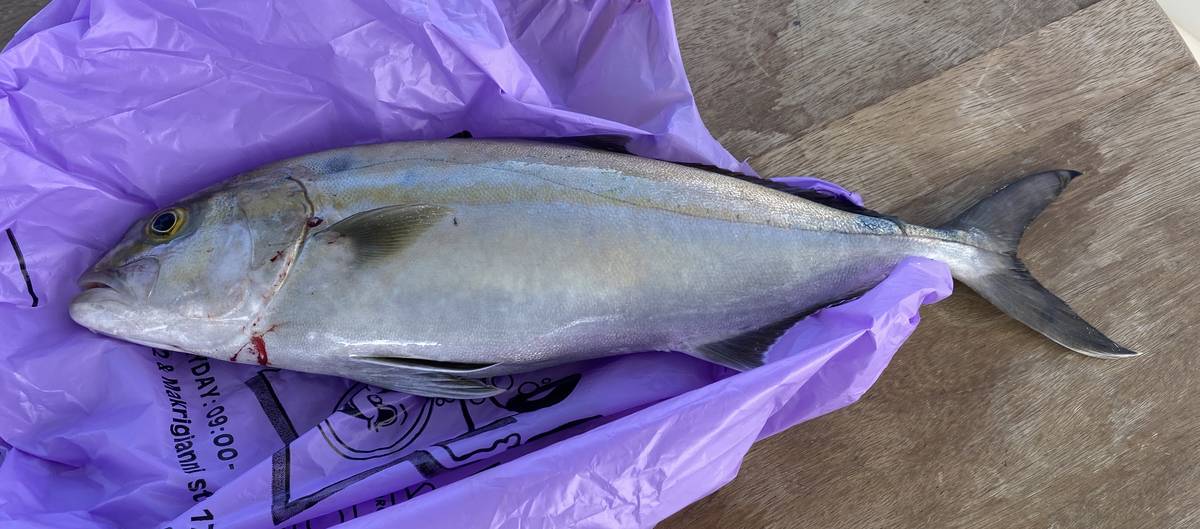 13.06.2020, 06:27 UTC
First catch of 2020 On my way back from Arki I passed by the island of Lipsi when suddenly my fishing gear started to release line.

I caught a nice 1.5 kg fish, which will be nicely barbecued tonight for dinner.
Destination of the day:
Palionissos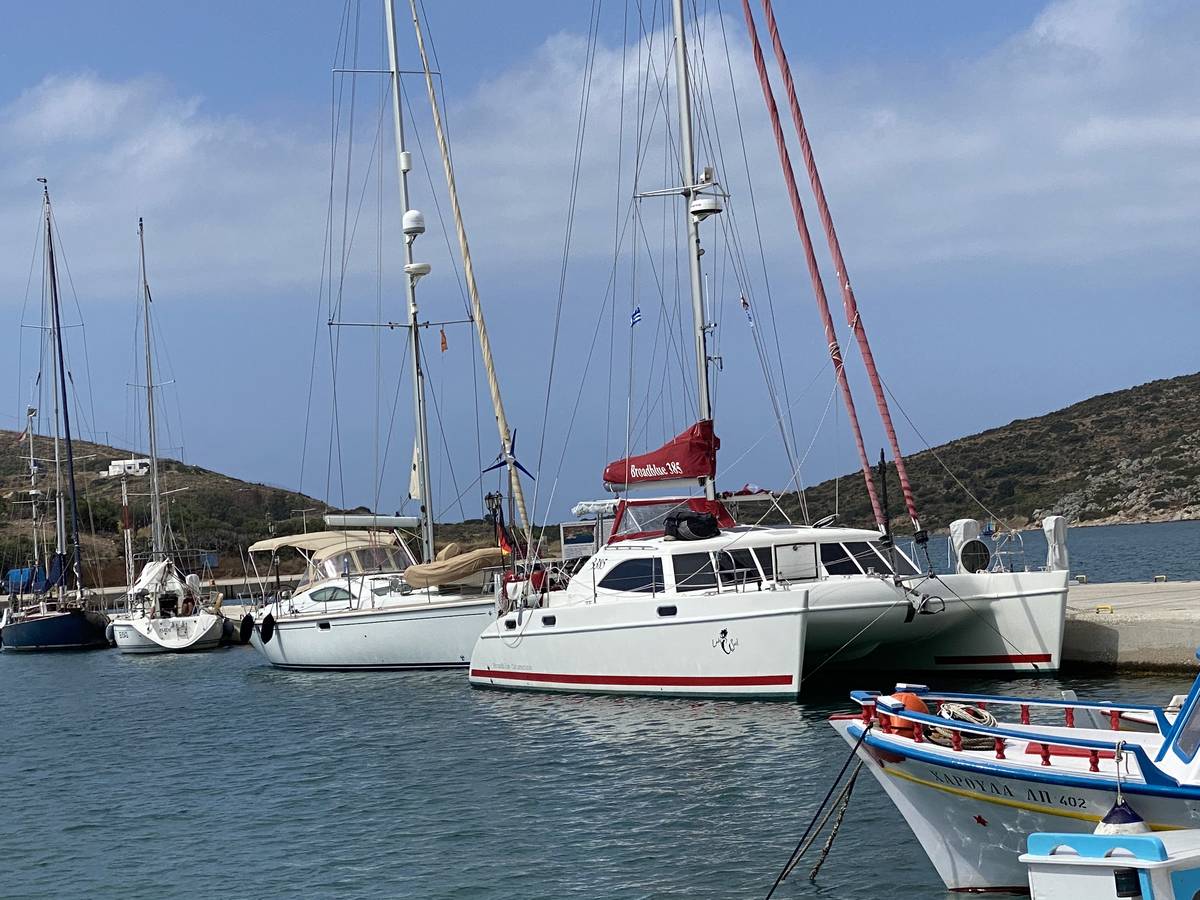 11.06.2020, 07:45 UTC
Lots of space in Lipsi When you approach Lipsi in June the town harbour is always crowded. This year the only four boats went alongside, which is normally not allowed.

Now I am really looking forward of having a terrific dinner tonight at one of my favorite places: Manolis Tastes
Wind force:
2 - light breeze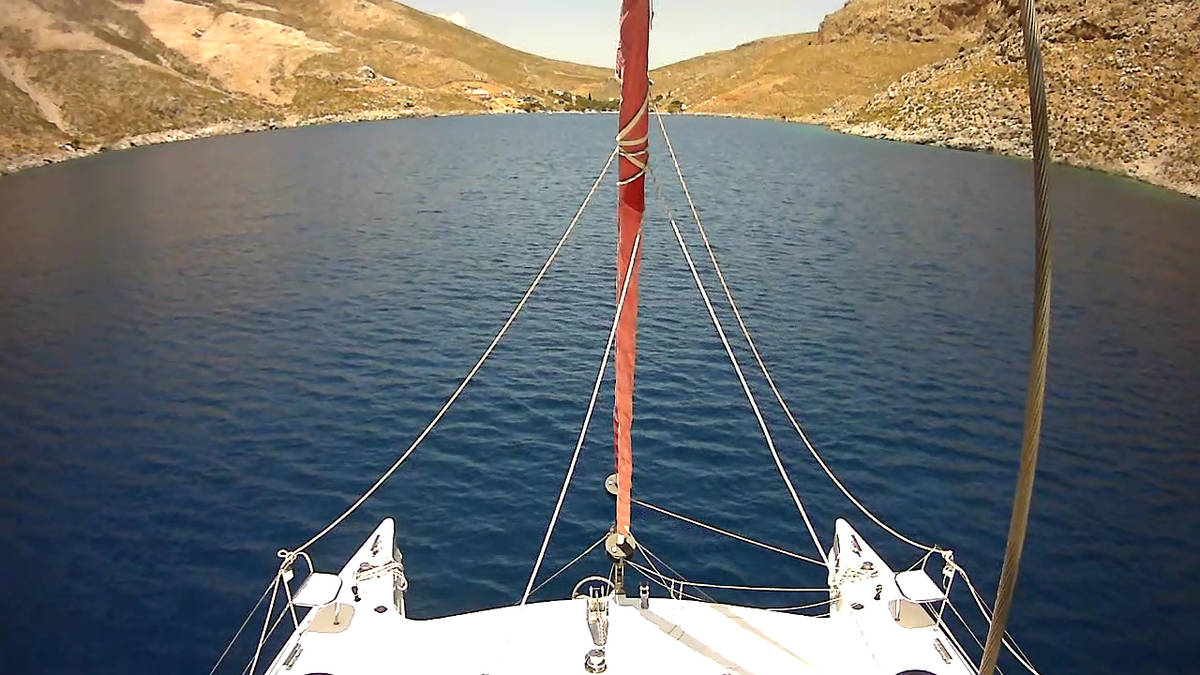 10.06.2020, 11:23 UTC
First trip in 2020 Finally my 7 day covid-19 quarantine came to an end yesterday.

So for the next 5 days I will do a short round trip Kos-Kalymnos-Lipsi-Arki and back, just to see the difference from previous years.

At my trip today I did not see one private boat and as I was told by Nomiki from Taverna Ilias here in Palionissos Lady Soul is the first international boat in this bay in 2020.

It was quite strange to approach such an empty bay, as it's been always overcrowded.

So I will enjoy the tranquility and try to have my first swim of the season at 23 degrees.
Wind force:
2 - light breeze
03.06.2020, 15:15 UTC
Finally back to Lady Soul As Covid-19 is not only restricting our daily lives, I experienced the impact on traveling over the past 2 days.

First it was incredible to see Munich airport so deserted. Only one food place was open and no waiting time at security.

The most amazing handling of this crisis was managed by the Greek authorities. After arrival at Athens airport there was a well organized Covid-19 test directly at the gate. Then a bus transfer to a designated hotel, where I had to stay for approximately 20h to wait for the results. In the meantime Aegean airlines rebooked my connecting flight automatically.

The hotel was for free including 3 daily meals all covered by the Greek state.

Now I will have to do a self quarantine for a total of 7 days.

No problem as I still have a lot of things to do on Lady Soul.
Wind force:
2 - light breeze