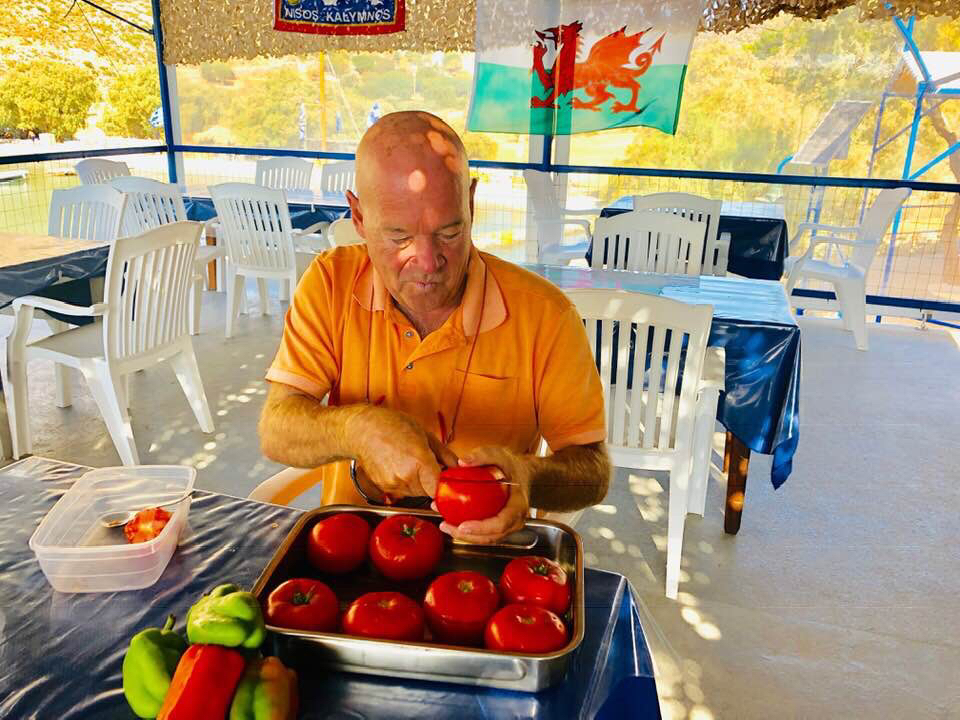 14.08.2018, 12:29 UTC
Kitchen Helper As I will stay for a few days here, I decided to help a bit at the Ilias Taverna.

Todays job: preparing γεμιστα
Wind force:
4 - moderate breeze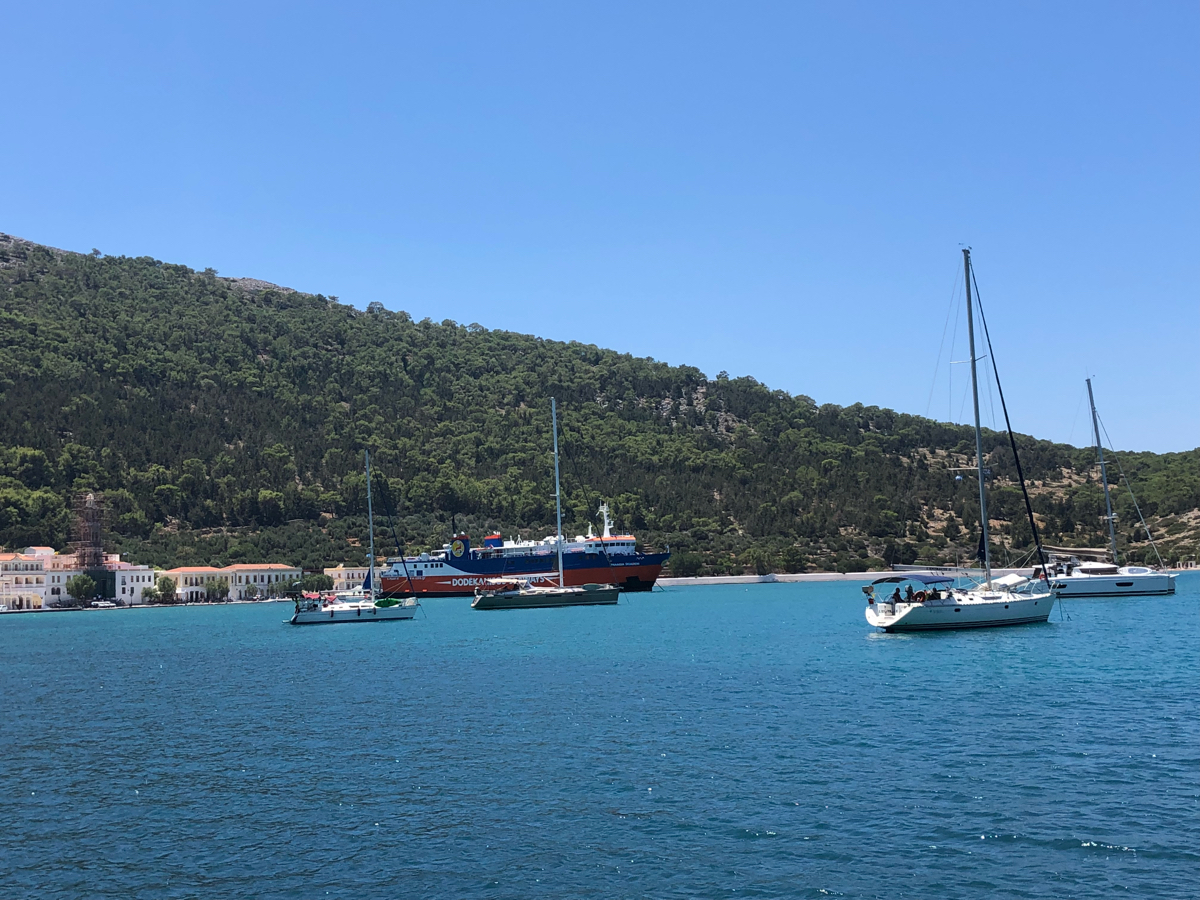 15.07.2018, 10:02 UTC
Anchoring Skills Yesterday we started at 06:00 at Kos Marina and due to the expected strong Meltemi we decided to get out of the main affected area. We had a terrific downwind sail to Panormitis, a very well protected bay on Symi island.

The bay was also affected by the meltemi and so we had gusts up to 39 knots, quite a challenge for the anchors.

After sunset quite a lot of sailors arrived looking for a place to hide from the strong winds and to anchor. Many of them were obviously participants of the Rodos Cup, which will start today from Kos Marina. They proved, that anchoring skills are probably not necessary for a regatta. One even rolled out the genua for mooring?! They produced quite a chaos amongst the yachts already on anchor. Luckily we stayed out of trouble:)
Location:
Panormitis Symi
Wind force:
6 - strong breeze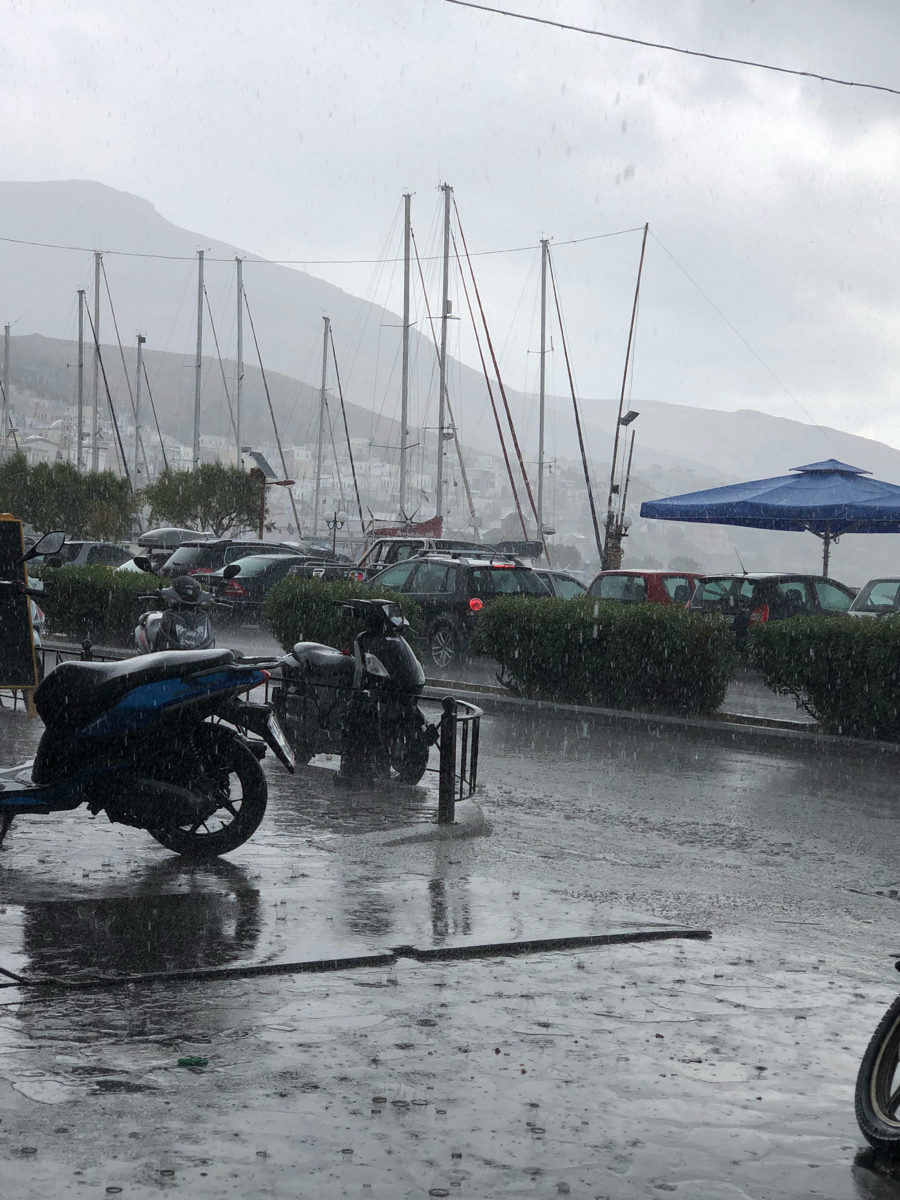 27.06.2018, 08:22 UTC
Finally some rain The greek islands urgently needed some rain. Most of the rain came down on Turkey and Greek mainland.

On our way today from Xirokambos on Leros we already had some short showers.

Now we stopped in Pothia to fill up our water tank. And it started raining like hell. With a big funnel we could have refilled as well.

Later we will continue to Palionissos to watch Germanys final football game of the tournament:)
Wind force:
2 - light breeze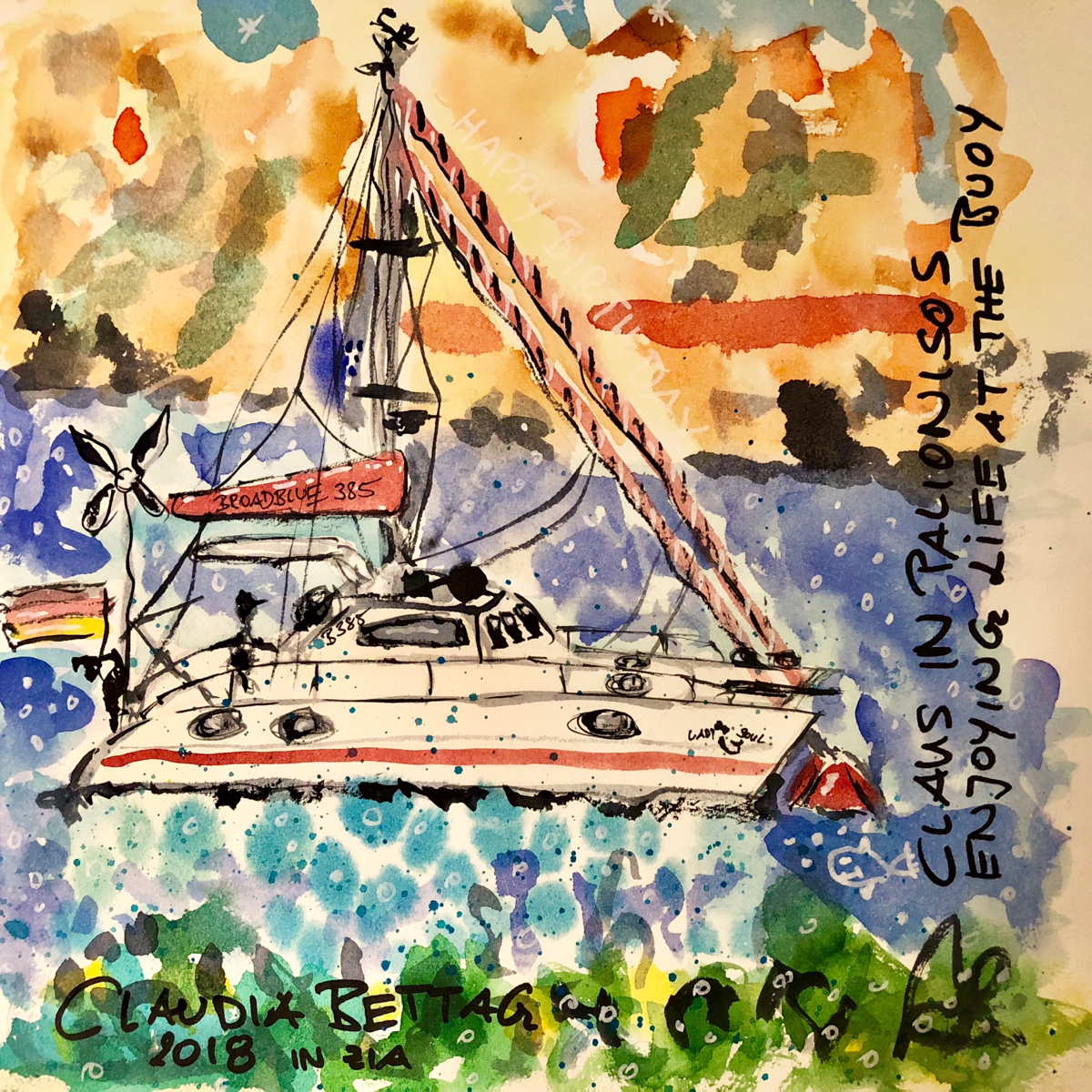 22.06.2018, 14:40 UTC
Lady Soul Aquarell Claudia surprised me today with an aquarelle:

It shows Lady Soul at her prefered mooring buoy in Palionissos.
Wind force:
3 - gentle breeze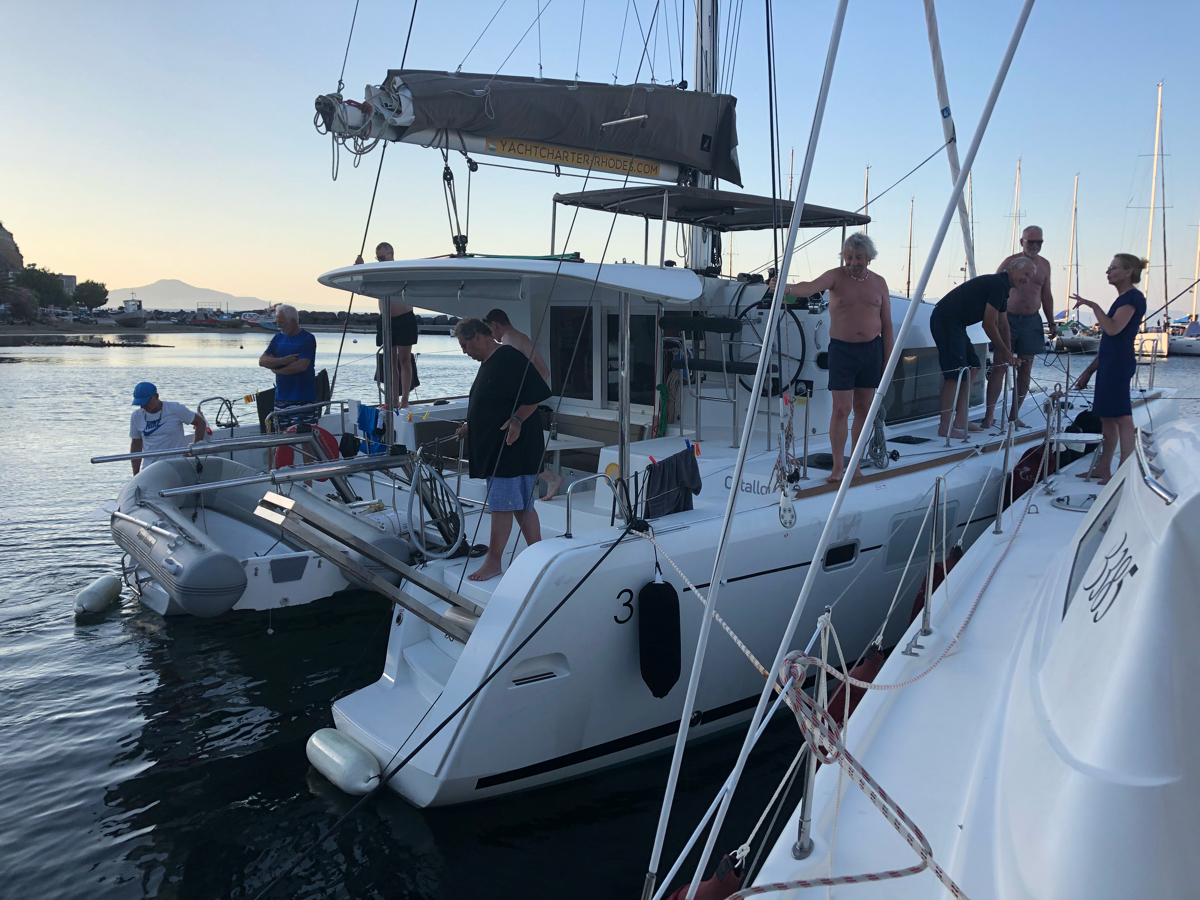 13.06.2018, 17:22 UTC
Failed mooring While I was already enjoying my Ouzo in the Taverna Aphrodite just behind Lady Soul a charter crew of 7 guys tried to moore next to us.

I told them, that there is not really enough room for them and to at least turn of their port propeller.

But as they did not listen they managed to get the lazy line of the adjacent fishing boat in their prop.

Finally we pulled them in by manpower.

Now they discuss how to get off the boat.

Harbour movie at it's best.
Location:
Paloi Nisos Nisiros
Wind force:
2 - light breeze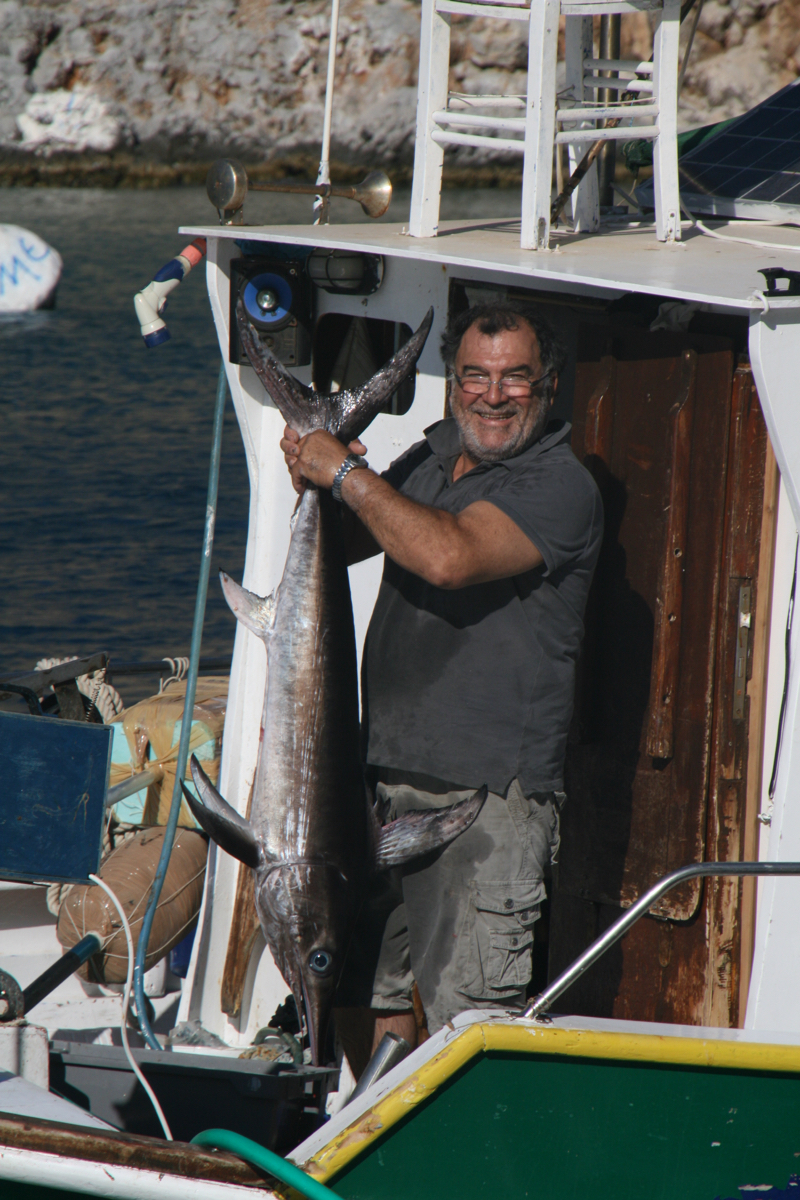 04.06.2018, 05:44 UTC
Who says there is no fish in the Med This morning my friend Kostas came back to Palionissos from his early morning fishing trip with a great catch!

Yesterday he fixed my fishing gear, so hopefully today on our sail back to Kos I will catch some too. It doesn't have to be that big :)
Wind force:
4 - moderate breeze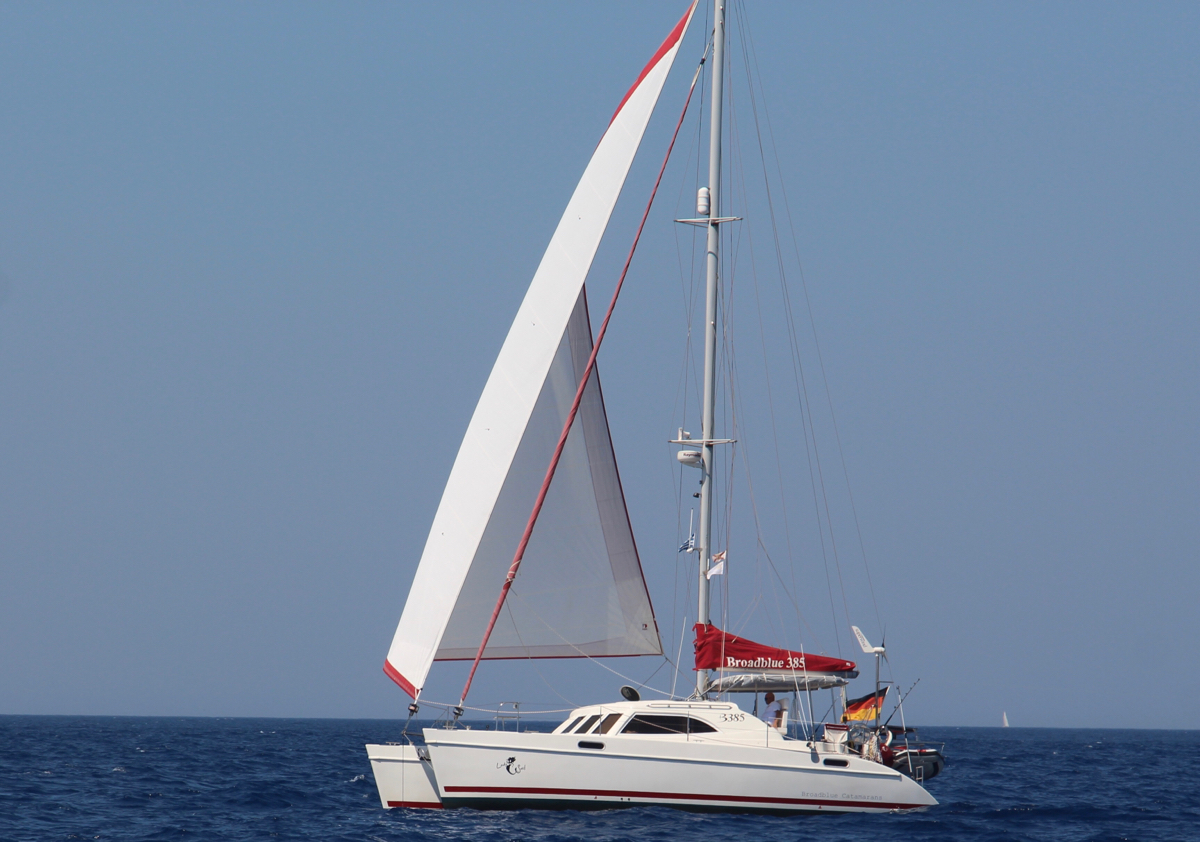 02.06.2018, 10:14 UTC
Downwind sail After a period of stronger winds we are sailing again.

Together with my dutch friend Karel we are on our way back to Kos with a stop in Palionissos.

As we are 2 boats we have the great chance to make lots of pictures under sail of each other.

Let's see who will be faster and reach Palionissos first.
Destination of the day:
Palionissos
Wind force:
4 - moderate breeze